Rationale For Attending The International Food & Drink Event
Reflecting on the outcome of the Good Food Show in late 2021, we thought we would continue with experiential marketing, but turning our attention to trade. We felt this was prudent as we assessed the results of the public event. It concluded that we needed to balance our investment in experiential marketing. In addition, the Island Delight brand is already out there and is a respectable brand. Therefore, influencing our decision to exhibit at the International Food & Drink Event (IFE). We attended this trade event from 21st-23rd March, taking place at Excel, London.
With the IFE being a B2B event, compared to a B2C event as with the BBC Good Food Show, our strategy was different. We wanted to generate new enquiries and leads for the island Delight brand.
Island Delight has the potential to attract new buyers as we already have a strong presence in the retail sector. Consequently, giving confidence to potential new business customers. We believe the brand can appeal to more buyers due to sufficient demand. However, as our business is predominantly in the retail sector, we had the desire to welcome new business in wholesale and other sectors.
Summary Of The 3-Day Event
We, Island Delight, were stationed at stand 4225, which was located on a corner in the Chilled & Frozen section. Our stand had our full portfolio of chilled Jamaican patties, both the Shortcrust and Flaky range, on display. We invited visitors to take away some to sample. We believe tasting our product could convert an apathetic visitor into a prospective buyer (yes, we are our own number 1 fans).
Our Jerk Beef patties, Jerk Chicken patties and Vegetable Jamaican patties unequivocally received the most attention. The existence of the Scotch Bonnet Chilli Pepper within all our patties was one of the facets which enticed visitors.
Accompanying our authentic range of Jamaican cuisine were our ready meals and cubes– the packaging, not the actual contents, unfortunately for visitors! We didn't want to miss the opportunity of showcasing all of what we had to offer as one buyer may be interested in the one product category but not the other.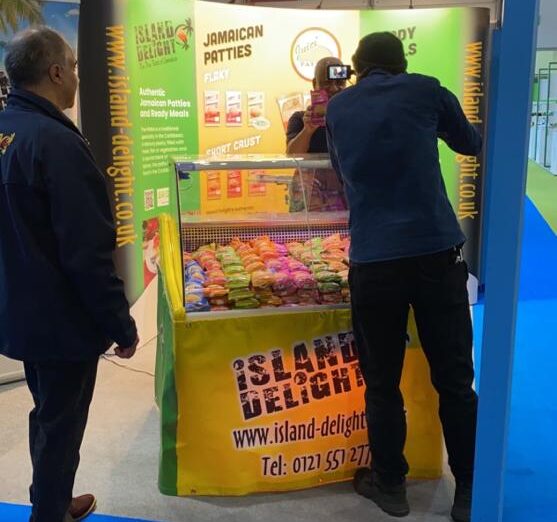 Throughout each day, the stand received a plethora of waves consisting of individuals representing businesses from all over the globe. Island Delight products are currently only found in retail and online the United Kingdom, as we don't export at this moment. So, it was fascinating to find that our Jamaican patties were a product which many could see being sold in a number of countries within Europe. This information allowed us to be more confident that our offerings could be a success outside of the UK. Effectively opening a new channel for us to expand.
What's Next?
Overall, the team opined that the IFE was a successful investment for Island Delight. As aforementioned, we set out to generate new leads, ultimately hoping we could add new stakeholders to our customer base. And we believe we have done just that. Keep an eye out for Island Delight online. You may just have the ability to shop the entire range of Island Delight patties with delivery to your door (fingers crossed). Considering this, we are open to exhibiting at IFE 2023; however, this time in the Bakery, Snack & Confectionary section.
But, before IFE 2023, we will be at the National Convenience Show (NCS) from 24th-26th April, at the NEC. The NCS is another trade event where we will continue to network. We will be promoting the True Taste of Jamaica, but our focus will be predominantly on attaining new wholesalers.