Island Delight Takes On Experiential Marketing
Island Delight attended the BBC Good Food Show last year in November with the aim of generating more awareness of our brand and the quality, authentic products we offer. We believe we were the only, or at least one of few, Jamaican-orientated food companies in attendance. In addition, we feel we represented the Caribbean in a proud manner. Our stand was centred on a large display banner, featuring the distinct Jamaican colours (as shown below).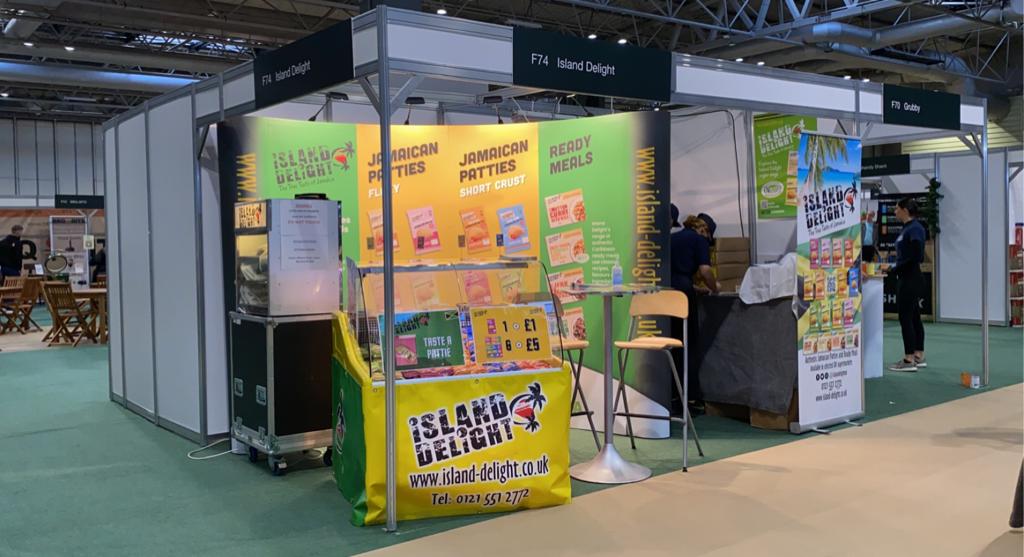 Our Strategy
We exhibited at stand F74, attracting a host of consumers. Some had never heard of our products and others never tasted one of our patties. Additionally, there were consumers who were already Island Delight lovers- which was very refreshing for us.
Fresh Cocktail Patties To Sample
The consumers interacted with our approachable staff on the stand. After that, they were invited to sample a selection of our warm, cocktail patties, fresh from the oven. The decision to sample was predominantly driven by our belief that the best way of generating interest and encouraging consumers is through taste. We at Island Delight have also felt inclined to share the True Taste of Jamaica. So, when an opportunity arises, you take it! Our samples clearly had an effect. We noticed the same food-lovers coming to and from the stand on several occasions. But, who are we to stop them.
Learning From Customers Feedback
Our sampling also helped us learn which of our flavoursome patties were the most appealing and enjoyable. For those that treated their taste buds, they were encouraged to purchase a range of chilled patties- the actual Island Delight patties you would see on a supermarket shelf. We sold that much that we had to arrange an additional delivery on the morning of Day 3! (Safe to say Birmingham love a Jamaican pattie).
Incredible Prices You Won't Forget
By the early afternoon on the final day, we thought let's make a statement of being generous. As well as, allow visitors to experience The True Taste of Jamaica. We did this with mouth-watering price drops: 3 for £1, 8 for £2 and 12 for £3.
If selling Jamaica's street food at incredible prices wasn't enough, we thought we couldn't attend an event without a giveaway. Each day of the Good Food Show was another day for a potential winner of a selection of Island Delight patties. We made sure Island Delight was talked about.
Future Events
Island Delight is a brand that is growing, and putting the brand out there in front of new consumers and buyers can only support this growth. Each year we are aiming to go bigger and better and 2022 is the year London will feel the presence of Island Delight, as we will be exhibiting at the International Food & Drink Event (IFE) at Excel London- the UK's leading event for food and drink professionals.