Our appreciation for traditional and modern Caribbean food doesn't stop at our moreish patties. So we have put together our Top Five Caribbean Restaurants in Birmingham
We love the Caribbean food scene in and around Birmingham where we're based and here we've put together a collection of some of our favourite Caribbean Restaurants in Birmingham and would love to know if you have any favourites too! Here's a rundown of our top five.

Image From thedeepexperience.com
Based conveniently on Bristol Street in Birmingham City Centre, Deep Caribbean Restaurant is a West Indian Restaurant which offers both handy buffet-style dining as well as a la carte options. The curried goat and brown bean stew are favourites of reviewers and critics and the speed of service guarantees hot, tasty food on your table before you know it. Deep Caribbean Restaurant is a great choice for a meal before enjoying the sights and sounds of Birmingham including the Symphony Hall and the National Indoor Arena.

Image From 24caratbistro.co.uk
With a name which suggests real class, the 24 Carat Bistro is a relaxed, family-owned restaurant that specialises in fresh home-cooked food in the convenient surrounds of the Hockley Jewellery Quarter. The menu is a truly sumptuous affair of traditional Caribbean cooking and for something special or a taster for what's on offer you can book into one of their Caribbean by Candlelight Nights, which take place on the first and second Saturday of the month. Each night you will enjoy a selection of authentic Caribbean meals and exotic cocktails can be enjoyed too. Mellow Caribbean tunes play in the background and it is an all-round experience you won't forget.

Image From facebook.com/AuntSallysCaribbeanFood
Offering generous portions and both eat in and takeaway meals, Aunt Sally's is your central, convenient one-stop choice for Caribbean delights. Fantastic value with fragrant mutton curries, huge highly spiced jerk chicken and a homely feel which you don't always get in the carbon copy high street restaurants.

Image From caribgrill.co.uk
In the heart of Moseley on Saint Mary's Row you'll find the Carib Grill, a Caribbean grill and a la carte restaurant which puts authentic cuisine at its heart. They offer meals 'from de grill' 'from de dutchie' and also 'Carib delights' and the dining environment is relaxed and welcoming, perfect for a leisurely evening meal. The escovitch fish is a real highlight and the establishment has a really warm feel which makes the dining experience even more enjoyable.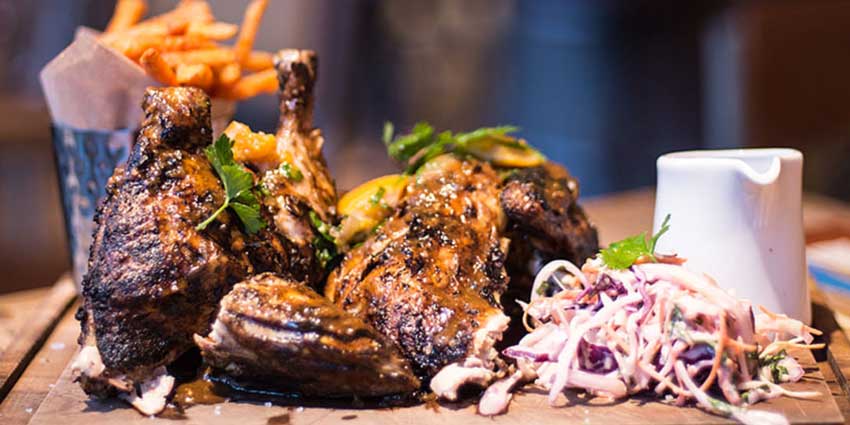 Image From turtlebay.co.uk
Visitors to Birmingham may recognise Turtle Bay from their hometown as it's a large chain which you see on many high streets with a menu which is a vibrant as its name. There is an eclectic mix of different Caribbean dishes to sample on the Turtle Bay menu and the company work hard to give you a genuine Caribbean experience from the second you step through the doors. Good food and good drinks combine with the great atmosphere at Turtle Bay.