Sharing and Snacking
The Future of Dining in Britain
Industry experts are seeing more and more Continental style dining in the UK, with restaurant and pubs seeing huge interest in sharing plates, platters and mix and match small plates to keep diners enjoying both their surroundings and the social aspects of dining in this way.
Britain is also a dedicated nation of snackers where everything from crisps to hot microwavable snacks is growing in popularity as people just seem to get busier and busier.
Buffet Experience in Miniature
Sharing plates are big business because they give diners the option to enjoy a buffet experience but in miniature. They are a perfect choice for the indecisive diner and even if you're hosting a dinner party opting for sharing platters and small plates is a way of introducing a range of your favourite flavours to your friends, rather than sticking to a set menu and stifling conversation and the fun of swapping and sharing.
Great Social Aspects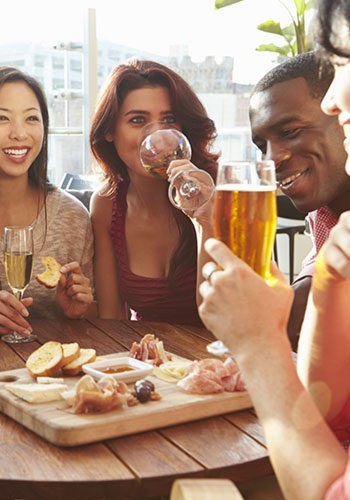 The social aspects of sharing plates and platters are a key part of the fun and they encourage diners to try new flavours and it gives the chef-in-charge a chance to experiment a little more.
The trend for sharing and small plates is rife in the hospitality industry right now and when something's on trend in the restaurants and cafes up and down the country, it makes perfect sense to bring it home for your next dinner party or get together.
Snack Patties are a Perfect Choice
At Island Delight we are completely in keeping with this sharing ethos and the design of our products is testament to this. Our snack patties are the perfect choice for a sharing platter which needs a little pepping up or if you're creating a menu with a Caribbean theme and with our most popular Jerk Beef and Jerk Chicken flavours available as snack patties, you can introduce the classic taste of Jamaica to your sharing platter.
The clue is also in the name with our snack patties when it comes to enjoying them on the go. As a traditional Jamaican street food reimagined for the UK market our patties are a perfect choice for on the go snacking, or whenever hunger strikes and with both these aspects of the market covered, we believe our patties are a great choice for a huge range of different occasions.
Next time you visit a restaurant check out their sharing platter menu and collection some inspiration to enjoy the same at home.